2006.10.02 Monday
フェデラー、今週ATP Bloggerに!
Rogiが今週ATPのブログを担当します!!やった!
asukamuraさん、情報さんきゅー!!
Jonathan Erlich and Andy Ramのブログ
に以下の文が!
I'm speaking w/sadness today, and that's not just because of Yom Kippur. Today is the last day of the blog. We got so much positive feedback.

Roger Federer does it next week

, and now he's got quite a standard to match. We'll see if he can cut it. Good luck to you Roger!
師匠(?)のツルスノフも来るし、先んじてブロガーになったFeder-bearも彼を助けるでしょう!楽しみ〜!!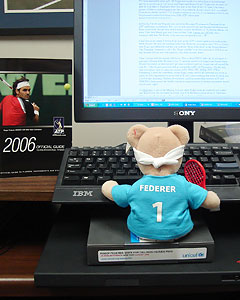 Roger Federer Blog